2021 McVickar Family Project
We have started a project to update our family tree in www.familysearch.org so that we all have access to the family info we do have.
In addition to the family tree, we have also decided to create a new family coat of arms to reflect our family today. We will of course keep our original and celebrate where we came from but our goal is to update our coat to something we all can identify with.
We have commissioned an artist in the UK to help in this project and currently have been sharing our research, knowledge, current images, etc. so that she can help capture our family in a image.
We expect the first draft of our image later this week and will share with all of you as we move forward on this for feedback and to be a part of the process.
Thanks
Gpa Paul
A few things to note that we've learned as we started this effort.
The coat of arms of the Scottish family of MacVicar, from which the McVickars and McVickers of America trace their descent, is described in heraldic terms as follows (Burke, Encyclopedia of Heraldry, 1844);
Arms.—"Argent, a millrind sable, charged with four estoiles of the field. "
Crest.—"An Eagle rising, proper."
Motto.—"Dominus providebit." – The Lord will Provide
We do NOT have a McVickar family Coat of Arms as these were created for individuals and are usually handed down to first born son and you have to trace the lineage to claim it. This is why we have a little flexibility in being creative with our new design.
If you have thoughts or feedback, please send them to Jack to coordinate.
Current Shield – artist unknown, water color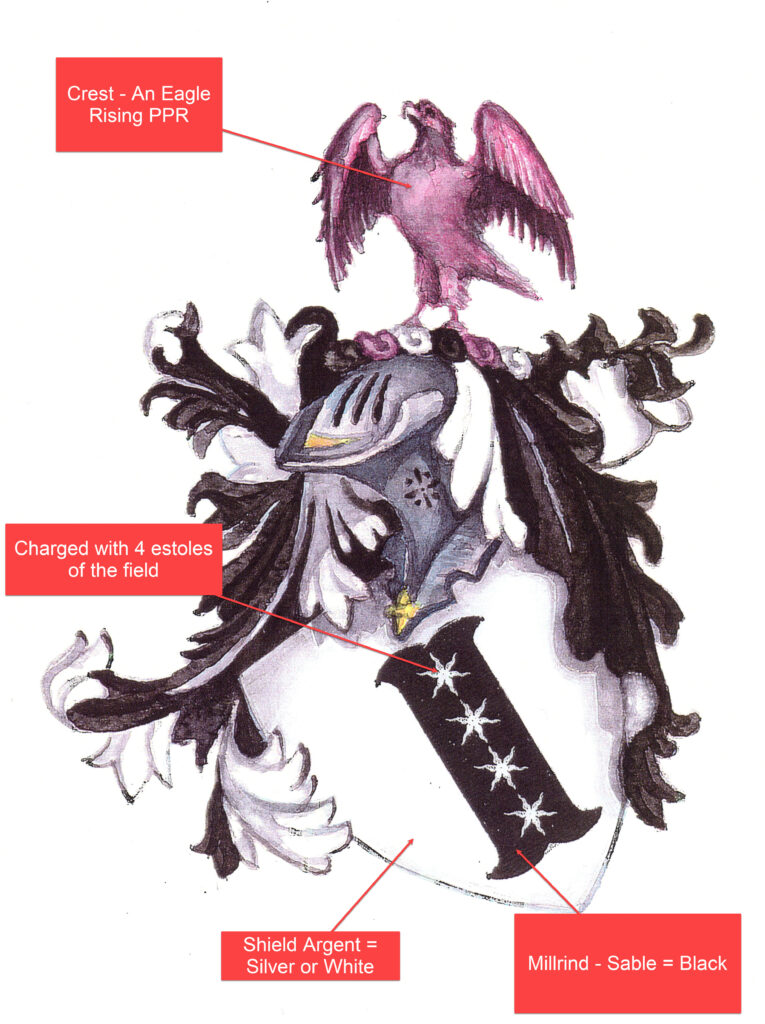 New Shield – pending first draft
Things to leave
Keep shield similar with it turned to left
Keep helmet on right side of shield and turned like it is – I looked up and this actually has meaning when helmet is turned and face mask closed
The purple color at the top needs to somehow be incorporated but does not necessarily have to be the eagle
Shield needs to be Argent – Silver or White
Millrind (black shape in middle) – needs to be black (Sable) with 4 estoles (the wavy 6 point stars)
Things open to artist interpretation
We would love an improved helmet – here is example https://go2england.dayabook.com/2011/01/coat-of-arms.html Image that has 4 helmets, far right helmet
The eagle is our family crest but I think at this point we would welcome an improvement there – we would like your thoughts here on what we can do
You asked about Shield shape – no real thoughts there, if you have an idea on something different we are open
• Latin motto " Dominus Providebit" in a banner
• Surname "McVickar" in a banner
• Incorporate USA and Irish flag colours into the design (i think this will work well where we have the USA flag colours in the mantling/filigree on one side of the design, and the Irish flag colours in the filigree/mantling on the other side?)
• Incorporate a small cross somewhere